*Article Republished from ChannelNewsAsia(CNA), 31st August 2020″
SINGAPORE: Imagine going to a restaurant for a meal, but instead of a waiter, a robot takes your order, gives you recommendations, serves your food, and collects your payment. This may well become a reality in the future of Singapore's food services industry.
Senior Minister of State for Education and Trade and Industry Chee Hong Tat said on Friday (Aug 31) there is "no other alternative" for the food services industry except to embrace technology to survive, and added they also have to be smart about doing so. He was speaking at the Food Services Transformation Conference, held at the Asian Culinary Institute.
The event is aimed at encouraging food businesses to adopt technology and digitalisation as a key means to meet the challenges of manpower constraints and rising costs within the sector.
Mr Chee said the appropriate use of technology can help improve various processes in food services, ranging from customer relations to inventory and procurement processes.
However, he also warned of the pitfalls of chasing technology blindly, citing a personal experience he had at a bak kut teh restaurant that used e-menus via tablets.
"When a tablet was not working, either because the system hanged or someone accidentally spilt soup on it, customers could not sit at that table because there was no alternative channel to order their food," Mr Chee said.
"Like all tools, we need to apply technology smartly to support new business models and process re-engineering. The objective is not to chase technology as an end in itself."
He also gave a positive example of Creative Eateries, a company which has implemented a digital internal system to facilitate the ordering of ingredients such as sauces, soups and par-cooked meat from the central kitchen.
This allows the company to better predict production levels and tap on live information on inventory levels, which has led to better management of product shelf-life and lower storage costs.
The push for greater technology adoption comes as food services remain a key part of Singapore's economy. In 2016, the sector contributed almost S$9 billion in operating receipts and contributed over 180,000 jobs.
A number of upcoming technology trends relevant to the F&B industry were also showcased as part of the conference. This includes the Kawada robot, which can take customers' food orders.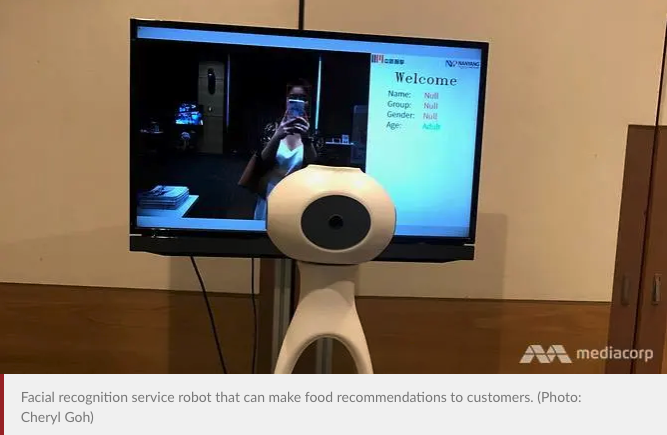 The robot's programme software was developed by a team from Nanyang Polytechnic's (NYP) School of Engineering, with the long-term goal for it to be used in real-world restaurants.
NYP is also working with China tech firm IIM on a facial recognition service robot that is able to give customer food recommendations based on certain aspects of a person's profile such as age and gender.
Other restaurant-related technology include a cashless self-service payment kiosk, as well as Dining Butler, which is a mobile ordering solution for customers to place their food orders directly on their own devices. 
=========
At Simplex, we embrace technology in the food services industry. We are the pioneer distributor of an equipment maintenance and monitoring software called Ecosys and we also sell equipment that enables your equipment to be "SMART", leveraging on Internet of Things (Iot). Low cost, High Returns with Simplex. Just feel free to reach out to our sales representatives for more information. We are there for your businesses, every step of the way!
Regards, Simplex Team