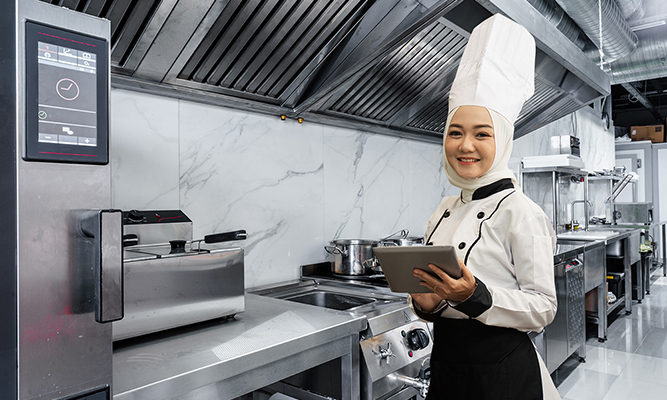 Whether you own a small cafe business or a food and beverage factory in Singapore, your commercial kitchen is the most important asset of your business. While it is critical to pick out the best kitchen equipment to help you run your business operations smoothly, here are 5 reasons why you should prioritise the scheduling of regular servicing for your kitchen equipment to ensure optimal business performance.
Compliance
Food and beverage establishments in Singapore are expected to comply with government regulations. One of which is the food safety regulations, which include rules about maintaining food temperatures, food storage units, and hygienic food preparation procedures.
A faulty refrigeration unit can cause lots of problems to your food storage safety; stymie business operations, and get you in trouble with the law.
Always check with your kitchen equipment supplier in Singapore to see if they offer servicing or maintenance services before purchasing any equipment. This should be the most important deciding factor when looking for a good supplier.
Reduced utility costs
After months or years of use, any piece of equipment will typically lose efficiency, faulty or old equipment may need more energy to run, resulting in higher utility costs. To save on these costs, it is advisable to regularly get your equipment serviced.
Maintains food and service quality
A piece of well-functioning kitchen equipment makes a significant difference in the quality of your food and service. This is because different types of food require varying methods of preparation and they each have different preparation times. A piece of good kitchen equipment can ensure you get your food prepared within the most optimal time frame.
Being able to consistently and efficiently serve good food to your customers should be at your top priority, as this can lead to a growth in revenue, which can only be beneficial for your business.
Longer life expectancy
Regularly servicing your kitchen equipment can help you to save money on replacing equipment that has broken down.
Just like your home air conditioner; regular cleaning and maintenance help to keep it running efficiently, providing you with clean and cool air all year round. The same logic applies to your kitchen equipment; by taking care of your equipment, you can help to significantly extend its lifespan.
Safer and Hygienic work environment
A safe and sanitary environment is essential for any food and beverage business; faulty kitchen equipment can cause electrical faults, turn into potential fire hazards, and cause serious harm to your employees, and, as a result, harm the business.
Aside from employee safety, your equipment can also be the source of any food safety issues, endangering the customers who consume food prepared by your company. 
Kitchen equipment is extremely expensive to replace and can be difficult to maintain on your own. To avoid any problems with the law, as well as food safety and employee safety issues, one of the best things you can do for your business is to ensure proper servicing is scheduled on a regular basis with your kitchen equipment supplier in Singapore.